You may notice that the FIRST thing that any of our tech support personnel will ask during any help session is:
"Have you taken your training course?"
The reason they do that is simple: 97% of questions are answered during the self-paced training course on Digital HeatFX and/or Print Optimizer – so the vast majority of issues with an end result are a process issue, not a product issue.
That's why training is SO IMPORTANT
Calling tech support is not the best way to get trained on how to do something!
If you haven't done your complete training course yet, please do that here. Once you have completed that, please fill in the request form on this page and we'll answer as soon as possible.
How Support Works:
ColDesi has an advanced tech support ticketing system we use to make sure everyone gets the help they need as quickly as possible. When you complete the Ticket form it is put into the queue for the next available qualified technician. Because some days we get more support requests than others, and some problems take more time to solve than others, our response time varies.
TIP: Include a detailed description of the problem AND photos or videos if you can. 
It's VERY important to us that you get back up and running as quickly as possible, so you will hear from us as soon as possible.
So, visit our training site at www.training.coldesi.com, or the open a ticket link at the top of this page so you get back to making custom apparel!
---
If you are having OKI pro8432WT Printer mechanical or control panel issues please contact OKI support or download the User's Manual here:
---
Tiger Sample Image is available for download here: Tiger Image

Troubleshooting Your Digital HeatFX System
There are 5 issues that we've identified are the most common, and are the most easily solvable, when using Laser EZPeel paper and the Digital HeatFX white toner printers.
In order to get you making shirts and making money successfully, we've distilled the troubleshooting for each of the common issues below. Just answer some yes or no questions, follow the video instructions and you should be back up and running in no time!
If for some reason the Troubleshooter steps don't resolve your issue, you'll still be prompted to complete a support request – already haven taken those first steps to a solution.
Digital HeatFX Troubleshooting
Problems during the marry peel
Problems during the transfer peel
Design colors don't match what prints out
Color on garment
When I try to print the Print Optimizer is asking where to save the file, or not printing

Print Optimizer Support | Installation
Download or Open
Print Optimizer Support | First Time Set Up
Download or Open
Print Optimizer | Adding a Printer
Download or Open
Print Optimizer Support | Dongle Replacement
Print Optimizer Support | Port Failed To Open
Print Optimizer Support | Changing Queue Order
Print Optimizer Support | Printing With Stripes
Print Optimizer Support | Super Size Image
Print Optimizer Support | Don't Use RGB Files
Print Optimizer Support | Changing Underbase %
Print Optimizer Support | Using Hot Folders
Download or Open
Print Optimizer Support | Saving and Restoring Files
Download or Open
Print Optimizer Support | Checking For Updates
Print Optimizer Support | Print Oversized Graphics
Print Optimizer Support | Change Substrate Color
Print Optimizer Support | Partial Transparency
Print Optimizer Support | Viewing Raw Data
Download or Open
Print Optimizer Support | Removing the Safety Box
Download or Open
Print Optimizer Support | EZ Peel 1 Step Smearing

OKI 920WT Most Frequently Asked Questions
And here are our most common requested tips, tricks, maintenance instructions and more. Right now these are a great place to learn more about owning and operating the DigitalHeat FX pro920WT – watch for more models coming soon!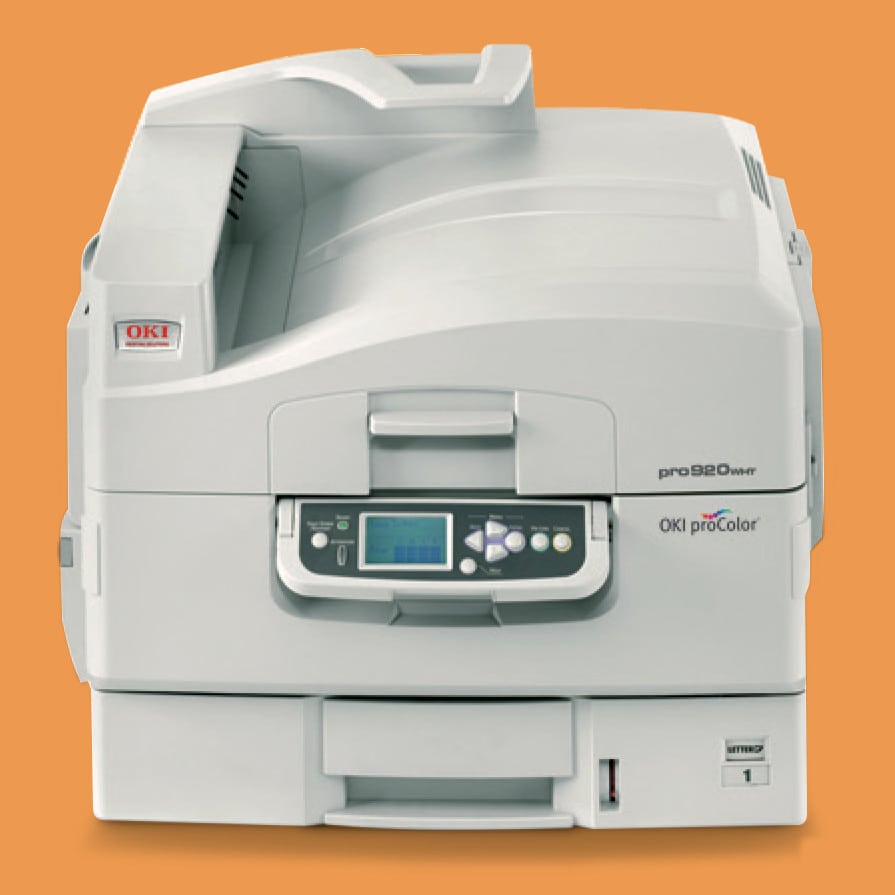 Frequently Asked Questions
How do I register my Printer?
You'll need to register your printer with OKI in order to get direct support. Follow these steps.
Go to this link. Select "Color Page Printer" under Technology and "pro920WT" under Model. The serial number is located on a white sticker on the back of the printer.
Where do I find the correct driver?
What do I do if my Printer is recognized as a USB Device INSTEAD of a Printer?
Turn printer off. Under "Devices and Printers" right click on the device and select "Remove Device". Turn printer on and wait for it to initialize. The printer should pop up under the Printers category after a few minutes. If problem persists, call the OKI Pro Color Hotline at 855.654.6777 for assistance.
What are the correct print settings on my computer?
Paper Size: Tabloid; Media Type: Transparency; Quality: Fine Detail (600 x 1200) or Photo (Multi-Level); Output Bin: Stacker Face Up; Print Mode: White On
What are the correct "color darkness" settings?
Cyan = 0, Magenta = +2, Yellow = +1, White =-3. Using the arrows on the control panel, go down to "Calibration" and hit Enter. Arrow down to desired color darkness and hit enter. Use the up or down arrow to enter the correct number and hit enter.
What is the factory reset password?
The "Admin Setup" menu will require a password. The factory set password is aaaaaa. Hit the up arrow and enter once to input one "a". Repeat five times and hit enter again.
How do I set the IP address for the Printer?
Amin Setup -> Network Setup -> IP Address Set -> Manual -> Enter
How do I print a Raster/Bitmap image with a transparent background?
CorelDraw: Import the file and print. Illustrator: Open Illustrator files in Photoshop and use following procedure.
In Photoshop:
Open your file
Click the background area of the image using the Magic Wand tool
Go to Selectand choose Inverse
Go to the Pathswindow. Click on the Paths Arrowand then Make Work Path
Input the value of Toleranceto 0.5
Click on the Paths Arrow and choose Save Path
Click OK to save Working Path as Path 1
Click on the Paths Arrow and click on Clipping Path
Click OK to select Path 1 as Clipping Path and save your file
Click on Print
Which side of the "A" film goes up in the MPTray?
The matte/coated side gets installed in the MPTray facing up, with the shiny side down.
How do I clear a "Tray 1 Empty" error?
Install regular copy paper in Tray 1 to clear error. This clears the error and can be used for periodic cleaning cycles.
When do I run a cleaning cycle and how do I do that?
Cleaning cycles should be run using regular 8.5″x 11″ copy paper if smudging or random flecks of toner appear on printed sheets and if any different media is used that fails to print correctly. On the printer control panel go to Print Information -> Demo Page -> Cleaning Page -> Execute. Repeat until all sheets in the cleaning cycle come out clean on both sides.
Why is my printer not printing?
If the printer control panel says:
Change Paper in MPTray
Tabloid
Transparency
Then you should press the ONLINE button to print
To disable this Media Check feature so it won't happen again, turn it off in Printing Preferences.
If the printer control panel says:
Ready to Print
Then the IP address may have changed when power it off. See "How do I set the IP Address on my printer?" to set manually.